Xuhui Zhao's Resume
the one who likes exploration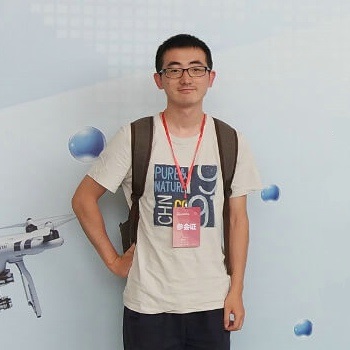 Name: Xuhui Zhao
Degree: Master
Birthday: April, 1993
Tel.: +86 13260602016
Major: Photogrammetry and Remote Sensing
Direction: Intelligent perception and robotics, Video satellite analysis
Wuhan University

2019.9 - Now

Photogrammetry and Remote Sensing, Master, School of Remote Sensing and Information

Honored as social activist (Wuhan University)
Vice chairman of college graduate union (responsible for the Dept. of Publicity)
Member of GeoScience Café and English GeoScience Café
---
Wuhan University

2016.9 - 2019.6

Photogrammetry and Remote Sensing, Master, LIESMARS

First-class Scholarship of WHU
Minister of Dept. of Publicity of Gaaduate Student Union of LIESMARS
---
Henan Polytechnic University

2012.9 - 2016.6

Surveying and Mapping Engineering, Undergraduate, College of Surveying and Mapping and Land Information Engineering

GPA:3.67/4(Top 1.8%)
China National Scholarship,Hi-Target Scholarship, First Class Excellent Scholarship of HPU
Excellent Graduates of Henan Province
Minister of Dept. of Publicity of College Students' Union、College Senior Tutor
Projects
Remote Sensing on-orbit Real-time Diagnosis for the Earth's Surface Anomalies, 2022
Responsible for the preparation of related documents and the research of on-orbit surface anomaly detection based on deep learning.
Research on Complex Scene Active Perception Technology Based on Multi-Agent and Non-human Cooperation, 2021
Responsible for the preparation of related documents and the development of practical multi-agent collaborative system.
Research on Visual Data Enhancement Technology Under Harsh Conditions Guided by Geometric Information Extraction,2021
Responsible for the design and implementation of visual enhancement algorithm (especially for unstable and dark illumination scenes).
Data Processing System Development for OHS-1 Hyperspectral Satellite, 2018
Design and test algorithm for hyperspectral satellite spectral segment registration system based on OpenCV, GDAL libraries.
Research on High Precision Image Stabilization and Motion Target Extraction Technology of Satellite Video, 2015
Design and develop algorithms for moving target tracking in video satellites using C++ language.
---
Papers
A Target Tracking and Positioning Framework for Video Satellites Based on SLAM, IROS, 2020
A Coarse-to-fine Band Registration Framework for Multi/Hyperspectral Remote Sensing Images Considering Cloud Influence, ISPRS Congress, 2020
Band Registration Scheme for Remote Sensing Image Considering the Influence of Clouds, Journal of Geomatics, 2020
Application Research of SLAM in Video Satellite Processing, Thesis of Master, 2019
Design and Implementation of Integration System of Surveying and Mapping Based on Android Mobile Platform, Thesis of Bachelor, 2016
Evaluation and prediction model of water scarcity based on multiple regression analysis, MCM Honorable Mention, 2016
Coordinate Conversion and Visual Analysis Software Realization Based on Mixed Programming of C# and MATLAB, 2015
The control planning of Ebola epidemic and related optimization scheme, ICM Honorable Mention, 2015
Design and Control of Chang'e-3 Soft Landing Track, First award of CUMCM, 2014
---
Conference and Academic Experience
2021 Wuhan, China | The 3rd Inter-disciplinary Graduate Academic Forum on Information Science and Technology in Central China Universities, Invited Speech, Wuhan University
2021 Wuhan, China | 6th Zhizhuo Doctoral Forum, Invited Speech on Photogrammetry and Computer Vision Workshop, Wuhan University
2021 Nanjing, China | Summer School of Geographic Big Data and Spatial Intelligence, Nanjing Normal University
2021 Online | Megvii CV Master Bootcamp (Computational Photography), Megvii Co.
2021 Online | NVIDIA CUDA on ARM Platform Summer Camp, NVIDIA Inc.
2021 Xi'an, China | International Conference on Robotics and Automation (ICRA), IEEE
2020 Online | International Graduate Workshop on GeoInformatics (IGWG), Invited Presentation, LIESMARS
2020 Wuhan, China | LIESMARS Open Day, Poster Presentation, LIESMARS
2020 Online | Pre-IROS Conference, Presentation, CAA
2020 Zhengzhou, China | Annual Academic Meeting of China Society of Surveying And Mapping, CSGPC
2020 Las Vegas, USA | International Conference on Robotics and Systems (IROS), Oral Presentation, IEEE
2020 Wuhan, China | International GeoInformatics Summer School, LIESMARS
2020 Nice, France | ISPRS Congress 2020, Poster Presentation, ISPRS
2019 Shenzheng, China | Youth Forum on Artificial Intelligence and Intelligent Transportation, South University of Science and Technology
2018 Hangzhou, China | 1st National SLAM Technology Forum, CSIG
2018 Hangzhou, China | SLAM Summer School, State Key Lab. of CAD&CG, Zhejiang University
2017 Wuhan, China | ISPRS Geospatial Week, ISPRS&LIESMARS
2015 Shanghai, China | Summer School of Excellent College Students at School of Surveying, Mapping and Geographic Information of Tongji University
2015 Wuhan, China | Summer Camp for Outstanding College Students in LIESMARS
2015 Wuhan, China | Summer Camp for College Students of Institute of Surveying and Geophysics, Wuhan
2015 Beijing, China | Summer Camp for College Students of Remote Sensing and Digital Earth
Scholarship
First-class Scholarship of WHU, 2017
Sun Yueqi Excellent Graduates Scholarship of HPU, 2016
Hi-Target Scholarship, 2015
National Scholarship, 2014
First Class Excellent Scholarship of HPU, 2013,2015
---
Competition
Interdisciplinary Contest In Modeling, Honorable Mention, 2016
Mathematical Contest In Modeling, Honorable Mention, 2015
"Zetai Cup" Eighth National College Students Surveying and Mapping Science and Technology Papers Competition, Third award, 2015
China University Mathematical Contest in Modeling, First award, 2014
National College English Competition, Second award, 2013
Continuous exploration and progress